Dr. Ken pops up in the most popular places!
Milwaukee Magazine
In this article in Milwaukee Magazine, Dr. Dembny is quoted regarding rejuvenating your appearance without surgery. Dr. Dembny was consulted as the "go-to" authority on injected fillers:
"Several years ago these products were thought of as just line- and wrinkle-fillers, But as we age, there are lots of changes in the lower face, such as loss of volume. As a result, there´s been a shift from using fillers just for lines and wrinkles to restoring facial volume."
Milwaukee Magazine
In this article from Milwaukee Magazine, "The New Men's Club", regarding the growing popularity of cosmetic procedures for men, Dr. Dembny was consulted for his thoughts on Botox.
"Botox is the number-one procedure across the country for men and women, counting surgical and nonsurgical procedures. More people will do nonsurgical things than have surgical procedures done because those types of treatments are relatively easy to maintain with minimal owntime. The results are immediate."
Talk of the Town News.com

A National web ratings service has listed Dr. Dembny as one of its award winners. Celebration Media U.S. Announces Customer Care News Magazine Celebration Media U.S., parent company of the Talk of the Town Awards, is pleased to announce publication of the Fall 2011 issue of Customer Care News, a magazine designed to explore the relationship among customer care, customer satisfaction and the bottom line.
Patients' Choice Awards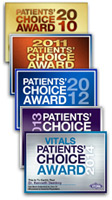 For five years in a row, Dr. Dembny ahs been recognized as one of Milwaukee's very best cosmetic and plastic surgeons – by those that mean the most – his patients. The Patients' Choice recognition reflects the difference a physician has made in the lives of his or her patients. The honor is bestowed to physicians who have received near perfect rating scores as voted by the patients. Congratulations, Dr Dembny.
"I am happy that I can make such a significant difference in the lives of my patients. I am grateful to be honored by them." – Dr. Dembny
Most Compassionate Doctor

Once again, for the third year in a row, Dr. Dembny has been recognized as one of Milwaukee's best cosmetic and plastic surgeons. The Most Compassionate Doctor award is based upon the good ratings and praises he has received from his patients regarding the kindness and compassion of the care he delivered. Of the nation's 870,000 active physicians, only a very small percentage received this honor.
"I would like to thank my patients for their nice comments. I appreciate their support. It is my pleasure to care for you." – Dr. Dembny