Voluma
Plump Up the Volume
Facial Volume and Lift That is Instant and Long Lasting
Dr. Dembny is Milwaukee's Voluma® Specialist
Wrinkles are only one part of the aged appearance. Facial volume loss is a major reason why we lose our youthful appearance over the years, and subsequently develop other lines and folds. Voluma™ XC offers an injectable approach to restoring cheek contour and a natural, younger appearance. Soft tissue fillers are an integral part of the rejuvenation process, but it takes an artistic and experienced injector to bring out the best that you have to offer. We have already been injecting the midface for years, but now with the addition of Voluma™ XC to our treatment portfolio we can provide even better results. Let the youthful way you feel on the inside now show on the outside.
Injectable fillers have been a significant part of Dr Dembny's practice for more than 15 years. As a result he probably has more experience with injectable fillers than almost any physician in Wisconsin. Patients appreciate his attention to detail and the natural results he achieves.
Midface Volume and Lift – that is instant and long lasting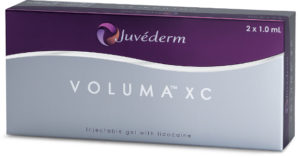 Juvéderm Voluma XC was FDA-approved in October 23, 2013. Voluma is the first and only FDA approved filler to treat age-related volume loss of the midface.
As we age, our faces lose both fatty and bony volume. This is commonly manifested in several areas of the face – the cheek being a primary and visible location of this volume loss. Juvéderm Voluma XC has been shown to be safe and highly effective in replacing midface volume to restore a natural, younger looking result.
Juvéderm Voluma XC is a hyaluronic acid (HA) product like Juvéderm XC, but is also uniquely different. Juvéderm Voluma XC is advanced dermal filler made using Allergan's revolutionary Vycross™ technology. Voluma XC is made with a higher proportion of lower molecular weight HA, and Allergan's proprietary Vycross™ technology, provides more efficient and tight cross-linking between the HA molecules within the gel. This produces a gel that has more structure and it therefore able to provide the plump and lift seen with Voluma™ XC.
What are the differences between Voluma® XC and Juvéderm XC?
There are several differences between Juvéderm Ultra/Ultra Plus XC and Voluma™ XC.
Indication:
Voluma XC is the first and only FDA-approved filler to treat age-related volume loss in the mid face and upper cheek. Juvéderm XC is indicated for the treatment of moderate to severe facial wrinkles and folds, primarily the nasolabial folds and areas around the mouth and chin.
Hyaluronic Acid concentration:
The hyaluronic acid concentration in Voluma XC is 20 mg/mL. Juvéderm XC contains 24 mg/mL of hyaluronic acid.
Formulation:
Both Voluma XC and Juvéderm XC are clear, biodegradable gels made of hyaluronic acid (HA), a natural complex sugar polymer (glycosaminoglycan) that exists naturally in all living organisms. Both Voluma XC and Juvéderm XC contain a mixture of low-molecular weight and high-molecular weight hyaluronic acid molecules; but the mixture of these components is different, and helps account for the differing properties. Voluma XC is made with Allergan's proprietary Vycross™ technology, which provides more efficient and tightly cross-linked hyaluronic acid. When compared to Juvéderm, Voluma XC has more low-molecular weight hyaluronic acid; it is the tight and efficient cross-linking of the HA that provides the volume and lift seen with this product. Juvéderm XC is formulated with Allergan's proprietary Hylacross technology, and contains a higher ratio of high-molecular weight hyaluronic acid. Both products also contain 0.3% lidocaine for anesthesia.
Hydrophilicity:
Hydrophilicity refers to the products affinity to bind water. Voluma™ XC has a lower hydrophilicity then Juvéderm XC. This means that Voluma XC has a lower capacity for binding water, and there is subsequently less swelling.
Duration:
With proper correction, Voluma XC is shown to maintain a clinically significant response at two years; while Juvéderm XC is indicated to last up to one year.
Voluma XC Treatment
Voluma XC is a smooth gel that is injected into the skin with a fine needle. The result is instantaneous and produces a smooth and lift and enhancement of the cheek area. The injected gel plumps the cheek to restore a natural lifted contour. For patients with midface volume loss, restoring cheek volume directs the treatment toward the cause of aging rather than the effect of aging. As with all dermal fillers, an emphasis is placed on restoring volume and contour while providing "full correction". With proper treatment Voluma™ XC has been shown to produce results that last up to 2 years.
In the Voluma XC clinical trial, 90% of patients were satisfied with their treatment at 6 months, and 76% were satisfied at 2 years. Patients reported looking up to 5 years younger at 6 months, and still felt they looked 3 years younger at 2 years following their Voluma XC treatment. Because a large component of facial aging results from loss of cheek volume, restoring volume in this area can improve the appearance of adjacent facial areas as well—32% of patients saw improvement in their nasolabial folds at 6 months, and 54% experienced improvement n their tear trough at 6 months following treatment.
Call us at (414) 443 0033 to schedule a consultation to learn how Voluma can refresh your appearance.
---
Split Face Voluma Treatment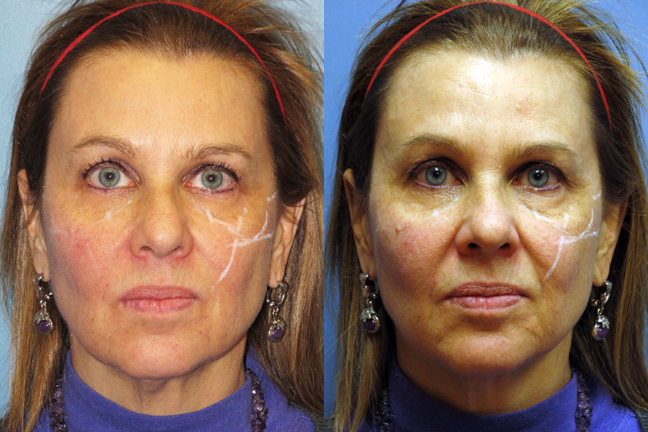 Before and after photo of a split-face Voluma treatment showing the results of volume restoration of the right cheek compared to the untreated left cheek. The right cheek treated with Voluma shows nice volume enhancement and contour change with softening of the right nasolabial fold; the left cheek remains untreated. Individual results may vary.
I look younger and more refreshed…the results look amazing
I am a 56 year old woman with better than average skin. I am happy to not be too wrinkled, but I am starting to sag a touch. My biggest concern was the loss of volume in my cheeks and temples. I had a hollow sunken look in my face, like I was too thin, and my temples looked sunken as well.
Dr Dembny used Voluma in both these areas and the results are amazing. My cheeks are lifted and fuller. My temples now make my eyes look less tired. People have told me that I look great and think I have lost weight. Voluma appears very natural, and not one person has realized that I had a procedure done. I look younger and more refreshed, and this in turn makes me feel better about my appearance. I did not experience any bruising and very little swelling; that went away quickly. I am very pleased with the outcome, and will definitely go back in the future for more Voluma.