Juvederm
Versatile and Natural
Juvéderm – Milwaukee, Glendale & Waukesha
Real Natural Looking Results
Dr. Dembny is Milwaukee's Juvéderm Specialist
The visible signs of facial aging result from sun damage, volume loss, and facial muscle movements. Facial volume loss results from bone resorption and fat atrophy. Skin laxity, lines, and wrinkles occur not only secondary to this volume loss, but also from the degradation and loss of collagen, elastin, and hyaluronic acid. Hyaluronic acid soft tissue fillers utilize a natural component of the skin to restore fullness and soften facial lines and wrinkles. Juvéderm XC is the number one filler worldwide because of its safety, consistency, efficacy, and duration. We have been using Juvéderm since its FDA approval in 2006, and patients appreciate the natural, long-lasting results. Don't let facial aging get the best of you, fight it softly and naturally with Juvéderm XC.

Smooth Dermal Filler … The number one selling dermal filler in the US!
Juvéderm® Ultra and Juvéderm® Ultra Plus were FDA-approved in June 2006, and publically launched in January 2007. Both are indicated for injection into the mid to deep dermis for correction of moderate to severe facial wrinkles and folds (such as nasolabial folds). Juvéderm® Ultra is a highly cross-linked formulation for versatility in contouring and volumizing facial wrinkles and folds. Juvéderm® Ultra Plus is a robust formulation for volumizing and correcting deeper folds and wrinkles. In February 2010, Juvéderm® Ultra XC and Juvéderm® Ultra Plus XC received FDA approval. These new formulations contain the local anesthetic lidocaine to provide patients with enhanced comfort. Juvéderm® and Juvéderm® XC remain the first and only hyaluronic acid dermal fillers approved by the FDA to last up to one year from initial treatment.
Juvéderm has a smooth consistency gel filler that restores your skin's volume to correct wrinkles and folds. Juvéderm is a clear, biodegradable gel made of hyaluronic acid (HA), a natural complex sugar polymer (glycosaminoglycan) that exists naturally in all living organisms.
What Is Hyaluronic Acid?
hyaluronic-acid-moleculeHyaluronic acid is a natural component of connective tissues. In the skin it is a major component of the extracellular matrix and dermis, where provides volume and fullness. HA is distributed widely throughout connective, epithelial, and neural tissues, is a chief lubricating component of synovial fluid in joints, contributes significantly to cell proliferation and migration, and participates in a number of cell surface receptor interactions.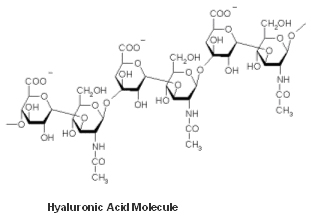 The hyaluronic acid molecule is not species specific so the hyaluronic acid in Juvéderm is completely biocompatible with human hyaluronic acid. Juvéderm is non-animal dermal filler so no allergy skin tests are needed prior to receiving treatment.
The hyaluronic acid in Juvéderm is produced through Hylacross™ technology, creating a high degree of cross-linking and resulting a long-lasting, smooth consistency gel. Juvéderm injectable gel employs its unique manufacturing process to provide the highest concentration of cross-linked hyaluronic acid of any currently available hyaluronic acid dermal filler. This advanced manufacturing process also creates a smooth consistency gel that flows consistently and easily into the skin and provides a smooth, natural look and feel. Juvéderm is the only filler available with this 'smooth' consistency gel formulation-other existing HA fillers are made of granular consistency gels.
Like all hyaluronic acids, Juvéderm has a high affinity for water, absorbing more than one hundred times its weight. It is this water retention that produces fullness and maintains volume for wrinkle correction. The high concentration of HA in Juvéderm, and the high degree of cross-linking, produces an effect lasting up to six months or longer.
Juvéderm® Treatment
Juvéderm smooth gels are injected into the skin with a very fine (30ga) needle. The result is instantaneous and produces a smooth and natural enhancement for your skin. The injected gel produces natural volume under the wrinkle, which is lifted up and smoothed out. Smoothing out wrinkles by adding volume can make an enormous difference to your appearance. Juvéderm® Ultra works well to improve the nasolabial folds, perioral lip lines, the lip border, red lip fullness, the corners of the mouth, marionette lines, the pre-jowl sulcus, the chin crease, the cheeks, the tear trough deformity, and some scars. Juvéderm® Ultra is especially good for lip enhancement and provides long-lasting, natural results. Juvéderm® Ultra can be used almost anywhere on the face with good results. Juvéderm® Ultra Plus works well when more significant correction is needed – to improve the nasolabial folds, the corners of the mouth, marionette lines, the pre-jowl sulcus, the chin crease, the cheeks, and some scars. As with all dermal fillers, an emphasis is placed on restoring volume and contour while providing "full correction". This comprehensive approach provides the best and longest lasting results. Maintenance treatments are perfomed to build upon the improvements achieved with prior injections, providing continued enhancement and benefit.
Achieving the look you desire is quick and easy. The versatility of Juvéderm® Ultra XC and Juvéderm® Ultra Plus XC allows you to have a natural improvement with the body's own material. The results of Juvéderm treatments can be seen immediately, and treatments can be repeated as often as you like. Juvéderm restores volume to your skin to smooth out lines and wrinkles for a smooth, natural look and feel that lasts.
Juvéderm® —Look Smooth and Natural
Individual results may vary. Factors such as age, skin type, current or past medical conditions, previous surgeries, and other circumstances contribute to the success of treatment outcomes. We will assess all relevant information during your consultation, present your treatment options, and explain treatment outcomes as they relate to your individual aesthetic goals. The information contained in this website is for educational purposes only. We make no representations or warranties of any kind with respect to the information, graphics, and photos available on this website. We invite you to contact us with any questions you may have.
Save with the Brilliant Distinctions Program
As a Brilliant Distinctions™ member, every time you purchase Juvéderm® XC injectable filler, BOTOX® Cosmetic, Voluma® XC, Latisse® lash treatment, or Vivité® skin care from a participating physician you will receive points deposited in your Brilliant Distinctions™ account. You can redeem your points for coupons that will save you money on these same treatments and products. Learn more about the benefits of Brilliant Distinctions.
If you would like to schedule a consultation to discuss how BOTOX® Cosmetic treatments can help you with underarm sweating, please call our office at (414) 443 0033.
---
Learn even more about Soft Tissue fillers >
Dr Dembny used Juvederm to make me look more rested
Dr Dembny used Juvederm to make me look more rested